The app can be customized during implementation, so your home screen may vary from the 'standard' presented here.  This article addresses the 'out of the box' version.  For customization options and samples, please click here.
Profile menu - standard in all implementations
Hamburger menu - varies based on modules selected and customizations
Quick access buttons - varies based on home page customizations and theme design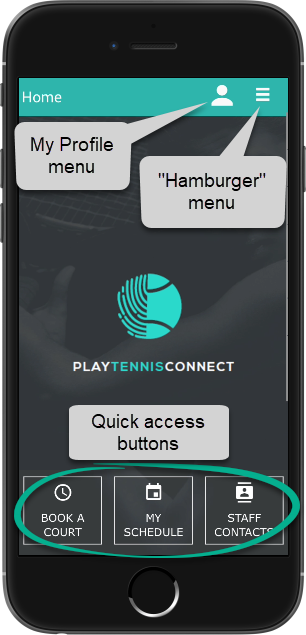 My Profile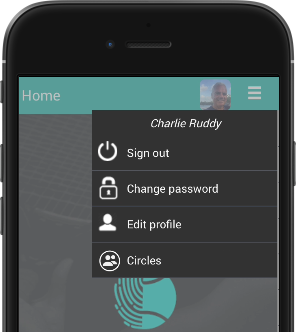 Sign out.  It is not necessary to sign out or sign back in.  Simply tap the app icon to launch the app
Change password.  You may change your password from within the app or from your tennis center web site
Edit profile.  You may edit your profile from within the app or from your tennis center web site
    Contact - profile picture, name and address, contact details, etc
    Preferences - email, calendar and push notification permissions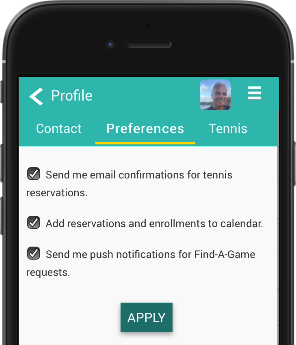 Tennis - your NTRP rating, playing preferences and general availability are used by your tennis center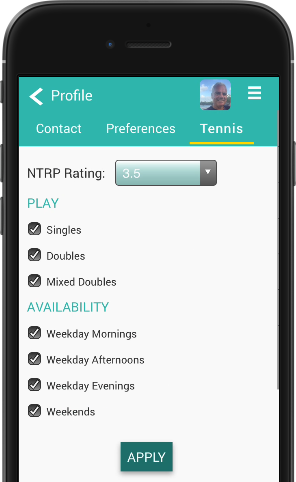 ---
Hamburger Menu
Note that menu items may be re-ordered, labels may be changed, user defined menu items may be added, and additional modules may be activated. Current news, Member look-up, and Events require activation.  All other features displayed are standard in the out-of-the-box app that is included in your subscription.
Note: this is the 'Hamburger menu':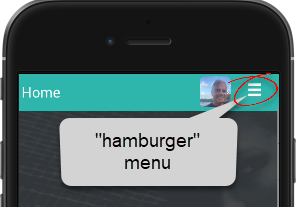 Menu items for Players (note: there are additional menu items for administrators and teaching pros - click here)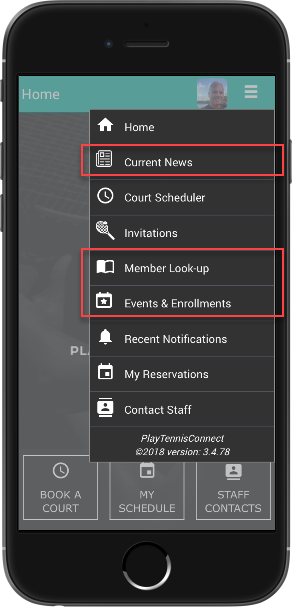 Current News: creates a link to a user defined page that is maintained using the Foundation Content Editor.  This page is found in your page list, usually called "App News"
    Sample: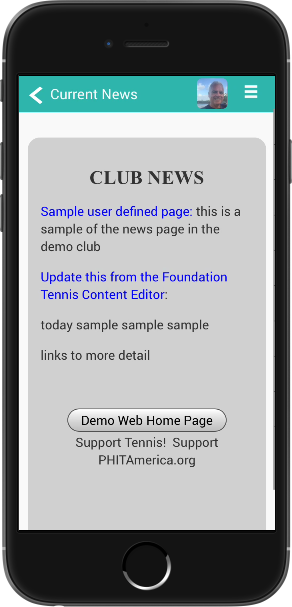 ---
Court Scheduler: opens the court sheet calendar
Date picker
"More Options" allows filtering by court group or time of day (range)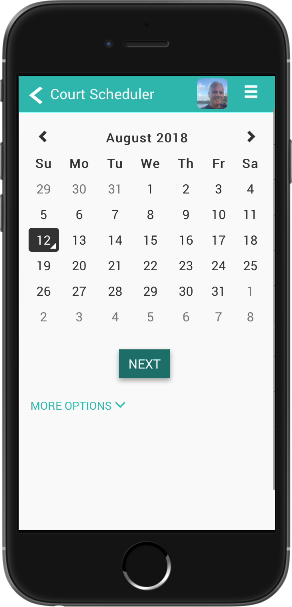 ---
    Court Sheets by court 
swipe or tap to 'next' court)
tap any available slot ("Book it")
Finer points: 
designated start time at 11AM forces play to start then
Bob Ryder's singles reservation has additional players
in this example, the club has elected to show players names to other players
a player may only edit their reservations in accordance with club policy
    Tap to reserve (please tap here for a more detailed walk-through of reservation options)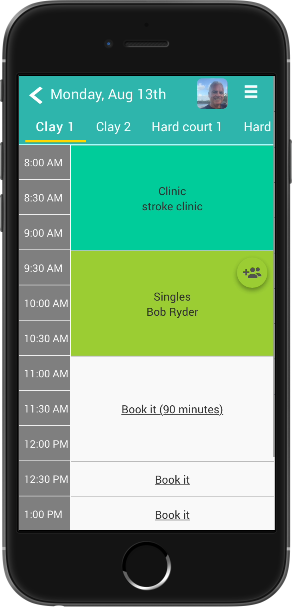 ---
Invitations: opens your inbound and outbound invitations
in this example,an invitation from Tom Palmer to play tomorrow at 9:30AM
a simple one-tap "I'm In" will add the player to the reservation and send the inviter (Tom Palmer) a push notification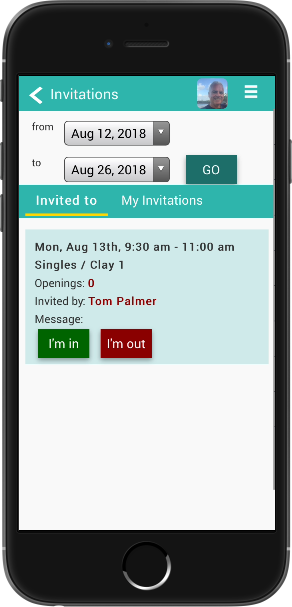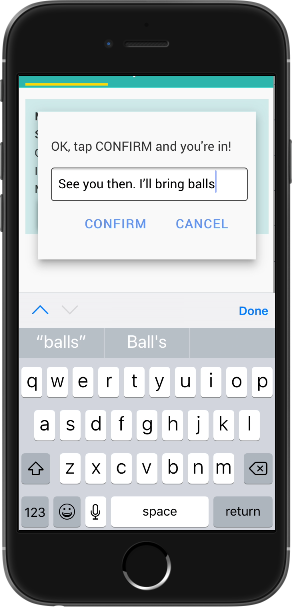 ---
Member Look-up: opens the Member search / look-up
search-as-you-type will display name matches after a few characters (any part of the name)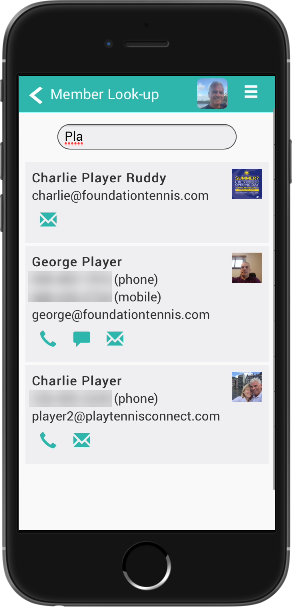 ---
Events & Enrollments: opens the event listing.  Allows players to enroll, allows staff and tennis pros to send invitations and add players.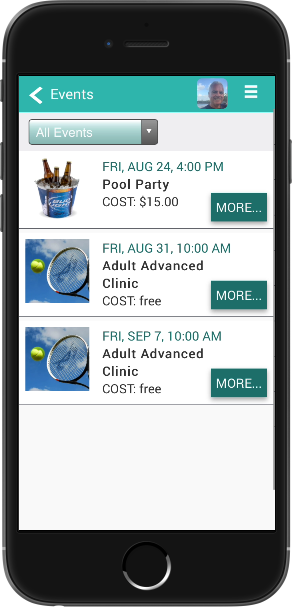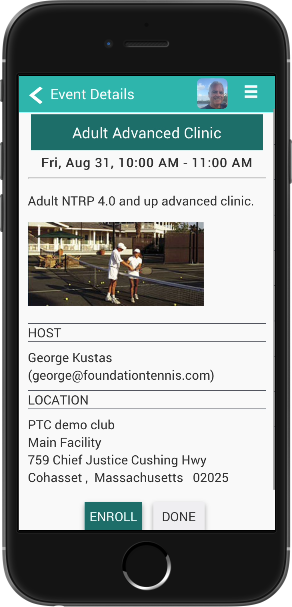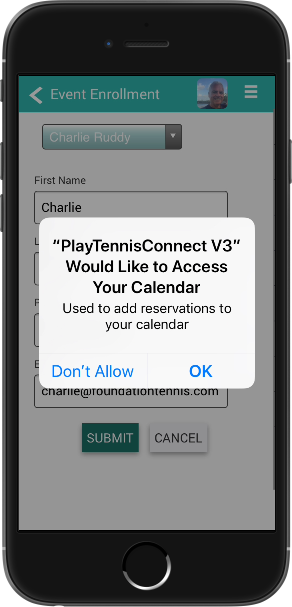 ---
Recent Notifications: displays the history of recent inbound push notifications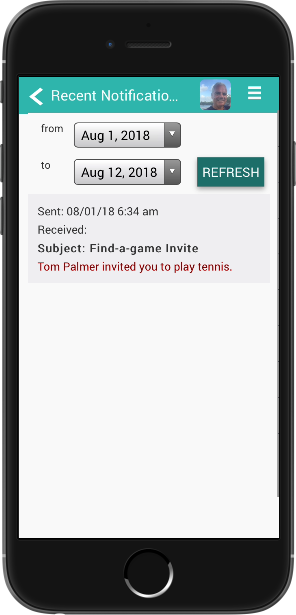 ---
My Reservations: 
for players, lists court and lesson reservations made using the app, the browser, or by your club when the reservations was made on your behalf
for teaching pros - lists all lessons, clinics, and lesson available reservation types 'tagged' to your teaching pro username.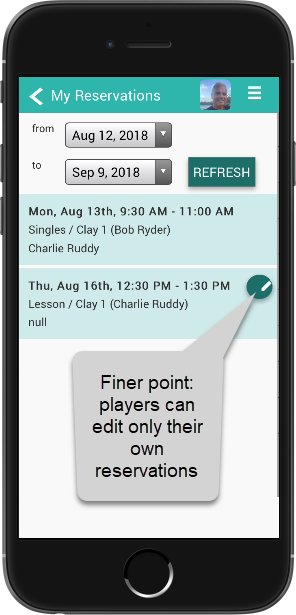 ---
Contact Staff: displays staff contacts including phone number, email, and text
Finer point - tap the icon to call, send email, or send a text message from your phone.  The app is integrated to your dialer